Shenzhen and the Reform Era, 1978-2018
Author:
Source:
Date:2018-08-22
Chairman Xi Jinping delivered a speech at the 30th anniversary of the establishment of Hainan province, reaffirming the remarkable achievements of China's opening-up policy. Looking back at the experiences learnt in the past forty years, Xi also set a series of new goals for further opening up. The impressive achievements of China's reform era should be attributed to Deng's opening up policy and CCP's collective leadership. Evolved from a peripheral village to a China's third largest metropolis with a population of over 20 million, Shenzhen outshines the other special economic zones, setting the model for economic development with Chinese characteristics.
This article will focus on Shenzhen's experiences and the reform era from four perspectives: First, the role of Shenzhen in the reform era; Second, how Shenzhen built the socialist market mechanism; Third, Shenzhen's experiences in the reform era; Lastly, weaknesses and challenges of Shenzhen.
Shenzhen's success is drawn from
 Deng's determination to opening up
 adherence to Deng's opening up policy
 building and maintaining a functional market with socialist characteristics
 continuing to emancipate the mind, lifting controls over ideologies and thoughts
Nevertheless, reform and opening-up in Shenzhen have certain weaknesses. Centered on economic reform with the aim of achieving and sustaining economic growth, reform and opening-up measures in Shenzhen have been onefold, leaving reforms in politics, society, cultural and ecology unattended. Consequently, rampant corruption, widening income gap, flawed legal system resulting from the onefold economic reform have been pestering Shenzhen as well as other cities in China.
Shenzhen has initiated a series of political reform in the 1980s such as the establishment of a functional surveillance agency similar to the Independent Commission Against Corruption (ICAC) in Hong Kong. Deng once pointed out that reforms in political system should be an integral part of China's comprehensive reform. The Decision released by the third plenary of the 18th Party Congress also recognizes political reform as part of the Five-in-one systematic reform. However, the political risks associated to such reforms are much more giant compared to economic reform. The national and local leadership structure held constant, local attempts to reform in the political realm have limited effects and can barely sustain.
Shenzhen has achieved impressive economic growth over the past decades, with a GDP per capita of 28,000 USD in 2017, and grown into a megalopolis with a population of 20 million. The quality of life and social services, income level, and public welfare in Shenzhen also have improved over the years. Nevertheless, they are still lagging behind, compared to other developed economies with the same level of GDP per capita.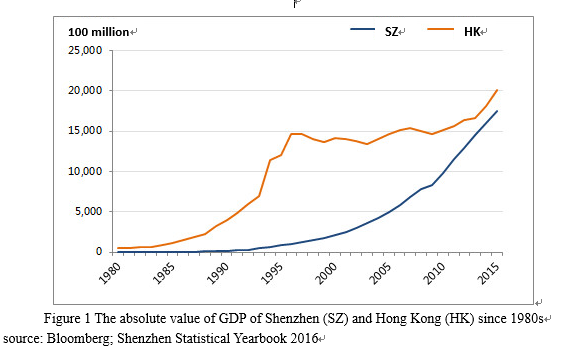 Inequality in education opportunities and the distribution of educational resources, unaffordable and inaccessible healthcare, and the lack of housing social welfare mechanisms all contribute to the imbalance between economic development and the call to improve the well-being of life. The past decades have witnessed series of reforms in public finance, education system, health care system, housing system, household registration system, income distribution system, and social security networks. The quality of life in Shenzhen has been improved dramatically while problems of inequality in social resources prevail.
| | | | | |
| --- | --- | --- | --- | --- |
| | 2007 | 2017 | Increased by | Annual growth rate |
| GDP (billion) | 680.157 | 2243.839 | 3.3 | 12.68% |
| Fiscal revenue (billion) | 65.8 | 333.2 | 5.06 | 17.61% |
| Per capita disposable income (RMB/year) | 24301 | 52938 | 2.18 | 8.10% |
| Average income (RBM/year) | 3233 | 8348 | 2.58 | 9.95% |
Table 1 Economic and social performances of Shenzhen in 2007 and 2017
source: Shenzhen bureau of statistics
The core factor to such stalemate comes from the slow transformation of government functions and ideals. Discussions of the transformation of government functions have taken place for years but GDP remains the core that the government has been after. Government officials continue to be obsessed with sustaining economic growth, expanding the scale of investment, image of the city and vanity projects. Government branches indulge in their power to give out administrative approvals and consequently improvise various pointless items required administrative approvals. While with regard to social welfare, public services, and redistribution, government officials appear to be perfunctory. More attention needs to be paid to issues that concern the public the most.
Moreover, Shenzhen's path of reform has not always been smooth and sound. Yet the zigzagged experiences have left the city with important lessons to explore forward. Looking back at Shenzhen's attempts to reform in the past decades, problems include
 policy mistakes as a result of insufficient knowledge and expertise, as seen in the chaotic stock subscription in 1992
 reversing social policies that deliver benefits to the public such as the abolishment of welfare housing and compensated housing policies in 2000s
 reforms in areas where different interests vested such as the household registration system remaining untouched
 economic losses as a result of ineffective reform measures, as seen in the situation of SOEs in the post-1998 financial crisis period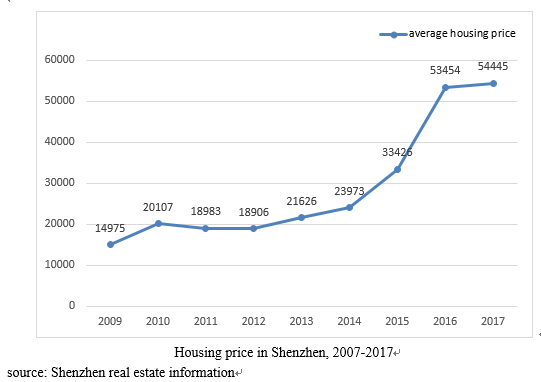 Besides, the spirit to experiment, reform and innovate that has prompted the impressive growth of the city is waning. Swirling bureaucracy, formalism and deliberate omission as a result of the top-down reform strategy, and the insufficiency of reform efforts after four decades have cast doubt on Shenzhen's prospects.
Nevertheless, the big picture of reform in China remains bright, as President Xi has made another round of strategic mapping for reform. Shenzhen should thus continue with the good work and aim for more achievements in the ongoing comprehensive reform.